GREAT WINES OF THE WORLD 2021 AUTUMN EDITION – SEPT 2-29, 2021
  EDITION 3 | AUTUMN GREAT WINES OF THE WORLD 2021 TASTINGS & MASTERCLASSES NEW FORMAT! 2 DAYS – 200 WINES Grand Tastings | September 2 – 3, 2021 @ Four Seasons Hotel Grand Ballroom Masterclass Program | September 6 – 25, 2021 @ James Suckling Wine Central _____ Join The post GREAT WINES OF THE WORLD 2021 AUTUMN EDITION – SEPT 2-29, 2021 appeared first on JamesSuckling.com.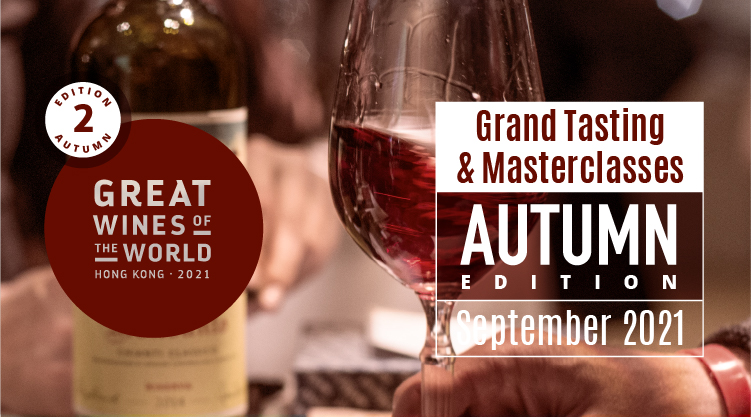 EDITION 3 | AUTUMN
GREAT WINES OF THE WORLD 2021 TASTINGS & MASTERCLASSES
NEW FORMAT! 2 DAYS – 200 WINES
Grand Tastings | September 2 – 3, 2021 @ Four Seasons Hotel Grand Ballroom
Masterclass Program | September 6 – 25, 2021 @ James Suckling Wine Central
_____
Join us for the third and final 2021 edition with multiple sessions held over two days at the Four Seasons Hotel Hong Kong.  Taste a JamesSuckling.com-curated selection of the best wines currently made around the world. More than 200 wines will be showcased – it's our biggest tasting of the year! The program is complemented by a masterclass series in September at James Suckling Wine Central in Soho. Take a deep dive into current wine topics and experience one-of-a-kind tastings with our JamesSuckling.com tasting team.  
This is an unmissable opportunity for industry professionals and wine lovers to taste some of the most exciting wines currently made in the world.

*  *  *
+ 200 wines available to taste – the biggest tasting of the year
+ First pre-release tasting in Hong Kong for many of the wines
+ Most wines rated on average between 95 to 98 points 
+ Over a dozen expert masterclasses on current topics, as well as one-of-a-kind tastings
+ SAVE with special ticket offers, such as Early Bird (HK$588, reg. HK$888) and 2-for-1 Combo Deal (HK$1,088 for two)  
+ Members of the wine trade are invited to register for the Trade Ticket option (identification required).
*  *  *
---

---
 Tickets are available now, book your spot!
The Grand Tasting is a sit-down tasting session in which any of the 200 showcased wines can be tasted. All wines will be served at individual tables. Tasting materials and information on each wine and producers will be provided at your seat. Members of the wine trade (wine importers, retailers, buyers, restaurant owners, sommeliers, hotel F&B directors, wine education, wine media) can register for the trade tasting ticket.
September 2 (Thursday) and September 3 (Friday) @ Four Seasons Hotel, Grand Ballroom
Hours:  1st Session: 11 a.m. – 1 p.m. (*full*) | 2nd Session: 2.30 p.m. – 4.30 p.m. (*full*) |  3rd Session: 6 p.m. – 8 p.m. (*full*)
Three sessions each day, with two hours for each tasting session


* * *

We are taking safety very seriously. The format at the Four Seasons Grand Ballroom has been designed to ensure the health and well-being of all our attendees. All tasters will be seated and socially distanced. Only tasters who have received at least one dose of vaccination will be admitted and are also required to scan the 'Leave Home Safe' app upon entry. The organizer reserves the right to deny entry to attendees who do not comply with this rule. 
For any questions, please contact us at pr@jamessuckling.com.
---
---
Take a deep dive into some of the best wines in the world by joining one of our insightful masterclasses, hosted and presented by the JamesSuckling.com Tasting Team!
Each masterclass focuses on a theme and selection of wines which will be tasted together with our team's guidance and insight. Wines will differ from the Open Tastings.
BOOKINGS OPEN NOW – GET YOUR SEAT!
* * * *
MASTERCLASS SCHEDULE:
(1) Bordeaux's Saint Emilion Ten Years After: 2011 Vintage Tasting | Sept 6 (Mon), 5 p.m. LAST SEATS!
[7 wines to taste] Perhaps eclipsed by the great 2009 and 2010 vintages, 2011 was a more challenging vintage for reds and is perhaps better known for Sauternes and dry whites in Bordeaux. Nevertheless, it produced some very good to excellent wines in Saint-Emilion where chateaux aside from the iconic Château Ausone andChâteau Cheval Blanc had a chance to shine. Come discover how they are showing ten years on in this horizontal tasting. Book now >>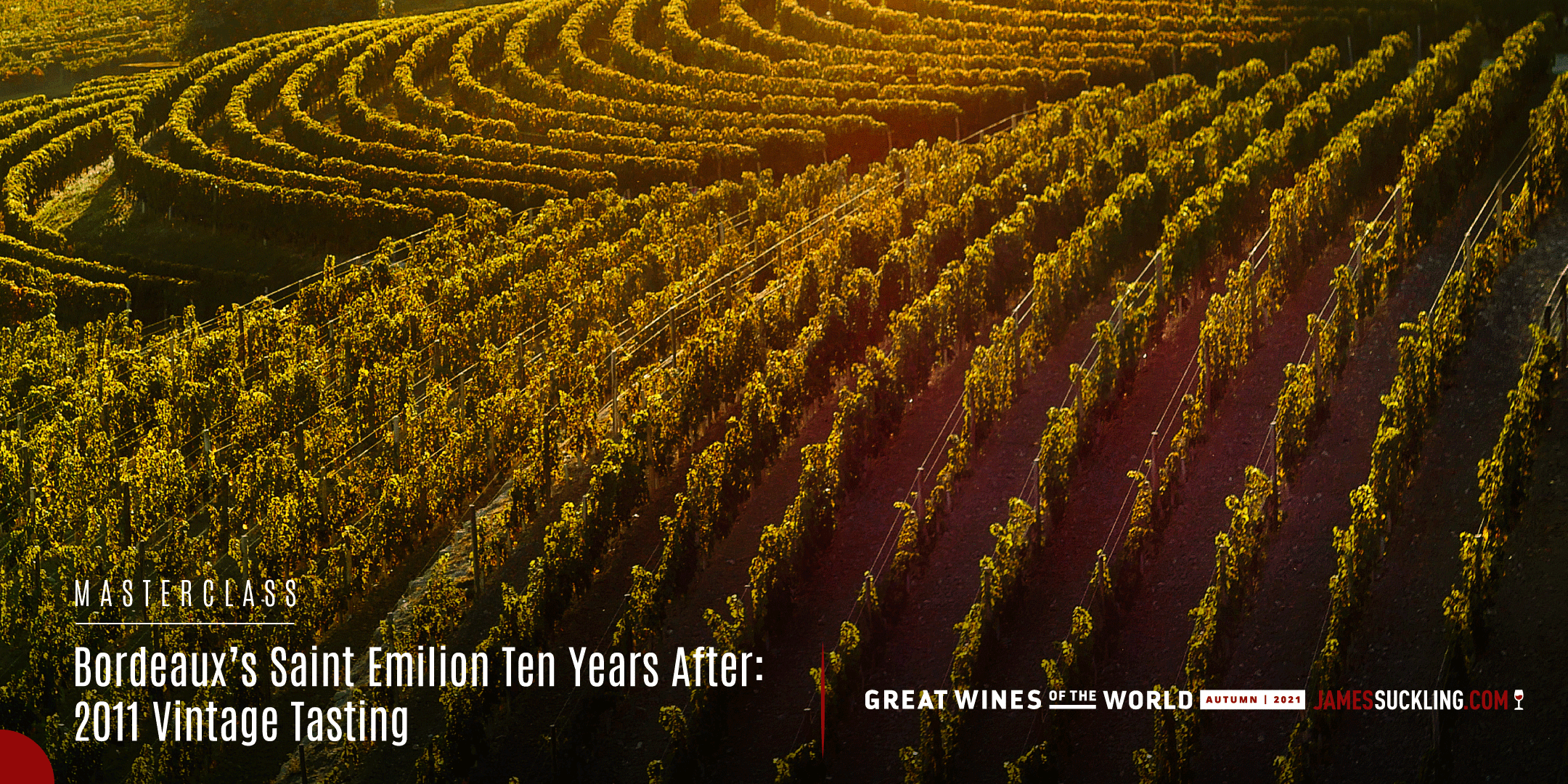 _____
(2) Champagne: 2008 & 2012 – iconic vintages in the making  | Sept 7 (Tue), 5 p.m. FULL
[6 champagnes to taste] From the relatively recent releases, the 2008 and 2012 vintage in Champagne are considered to be exceptional years making iconic or legendary wines. Many of the champagne show real depth and outstanding quality which compete at ease with the famous 2002 vintage. Ideal conditions and slow ripening season allowed the best Champagne houses to achieve remarkable wines. Discover the variations and diverse styles of top wines from Laurent-Perrier, De Venoge, Henri Giraud, Deutz and Champagne Henriot.

Fully booked.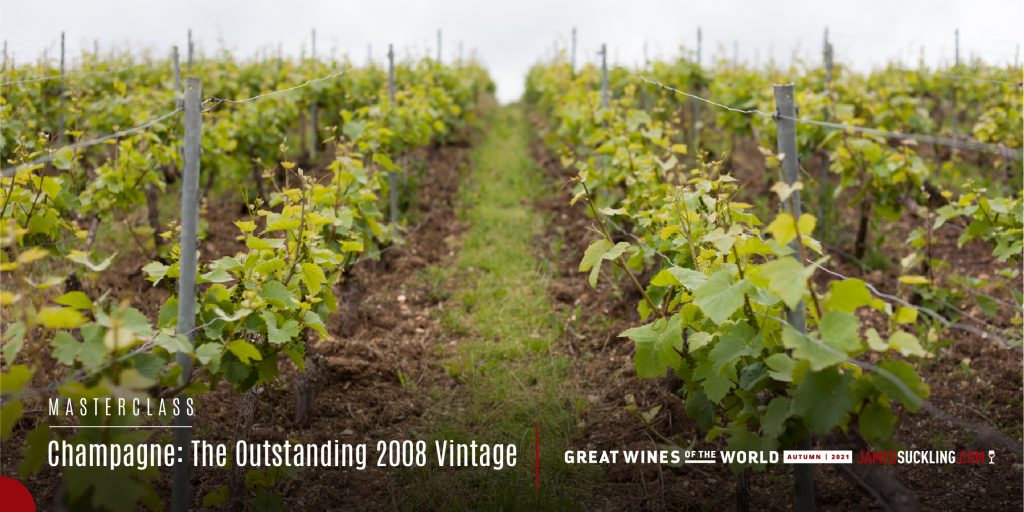 _____
Understanding Classic Rioja: The Difference Between Crianza, Reserva & Gran Reserva | Sept 8 (Wed), 5 p.m. LAST SEATS
[8 wines to taste] Rioja is perhaps the most internationally-recognized, popular and organized wine region in Spain. Producing consistently great wines decade after decade, it has its own classification system reflecting quality and complexity. Rioja is not a uniform style but rather a variety of profiles, with variations in terroir from three distinct areas, a range of varieties in the blend and differing maturation styles. Learn more about this region through a tasting of three of the leading wineries of the appellation and unveil the differences between Crianza, Reserva and Gran Reserva Rioja. Book now >>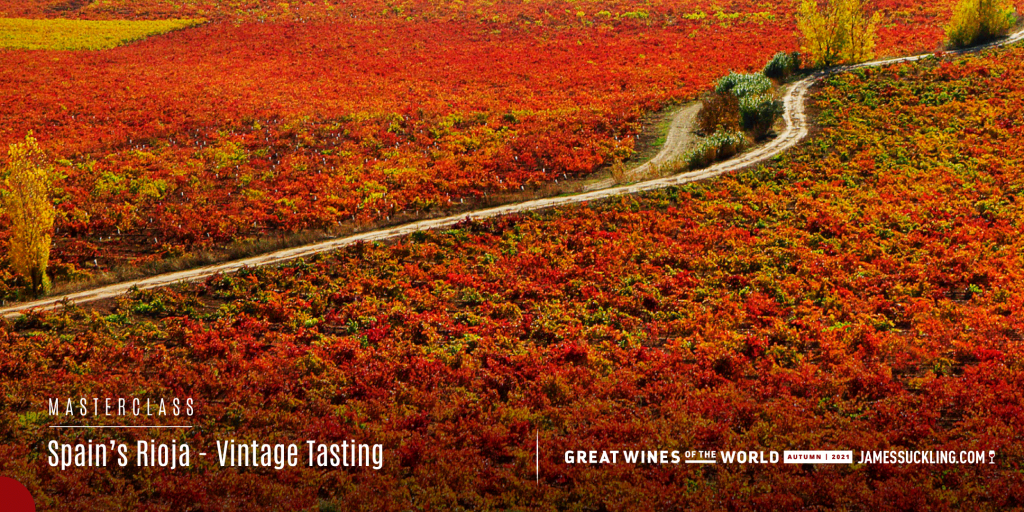 _____
Chardonnay: New World vs Old World  | Sept 11 (Sat), 12 noon FULL
[9 wines to taste] Acclaimed, loved and respected by wine lovers and winemakers alike, Chardonnay is an iconic grape. Originally from Burgundy and named after a local village there, it produces wines all over the world with undisputed success due to its great adaptability, offering a variety of styles and profiles. Compare these different expressions of the same grape by exploring seven regions and nine producers in this deep-dive, one-of a kind masterclass.
Fully booked.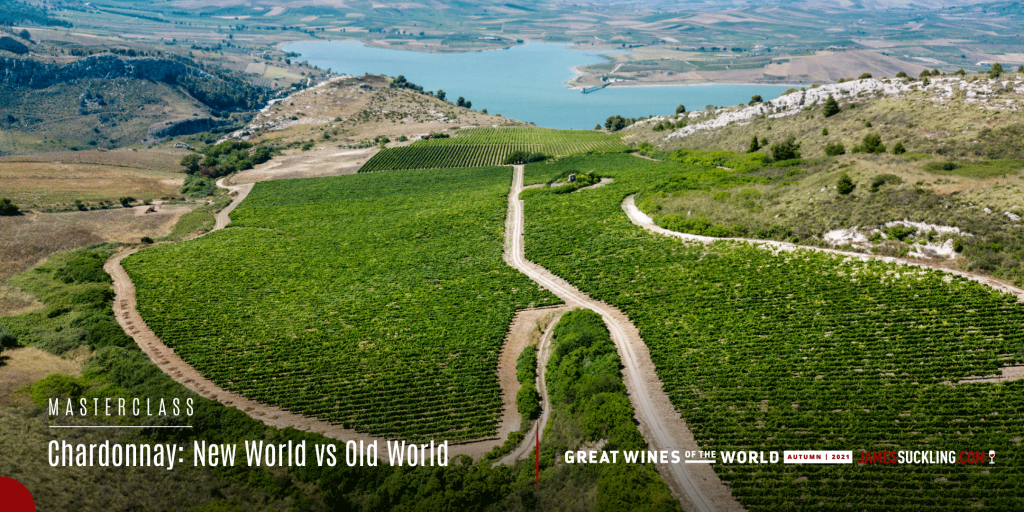 _____
Napa's New Blockbuster Winery: Promontory Vertical Tasting with Will Harlan | Sept 11 (Sat), 2 p.m. 
[Hosted and presented by James Suckling] Promontory confirmed its status from rising superstar to new cult of Napa Valley just a few years ago. Having reached perfect scores of 100 points for its 2012 and 2016 vintages, Promontory is now part of an iconic Harlan family trilogy alongside Bond and Harlan. We invite you to discover what makes Promontory so special and why it is here to last through a unique vertical tasting of five vintages from 2012 to 2016. Join us for this extraordinary masterclass with Will Harlan live
Fully Booked.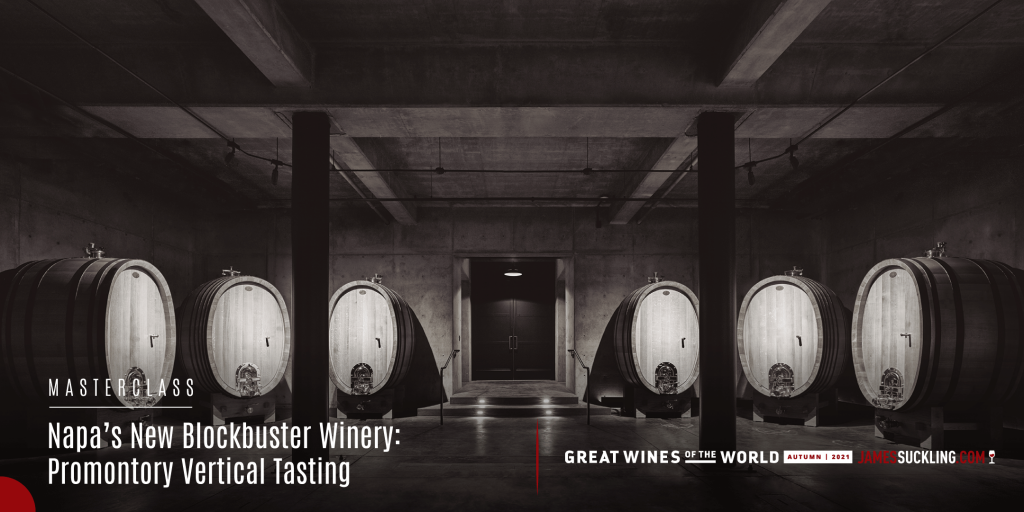 _____
Syrah – Discover Southern Hemisphere Syrahs | Sept 13 (Mon), 5 p.m.
[10 wines to taste] Syrah or shiraz? Whether fresh and peppery or rich and opulent, this exciting grape leaves no wine connoisseur indifferent. Well known in the Rhone Valley and part of many blends in the south of France producing complex reds and vinous rosés, it has its counterparts with exceptional shiraz and syrah produced all over the world. This masterclass will focus on wines from the southern hemisphere through the iconic Torbreck in Australia, Argentina's El Enemigo from the slopes of the Andes, and top Chilean syrahs from producers Villard, Polkura and Montes. Book now >>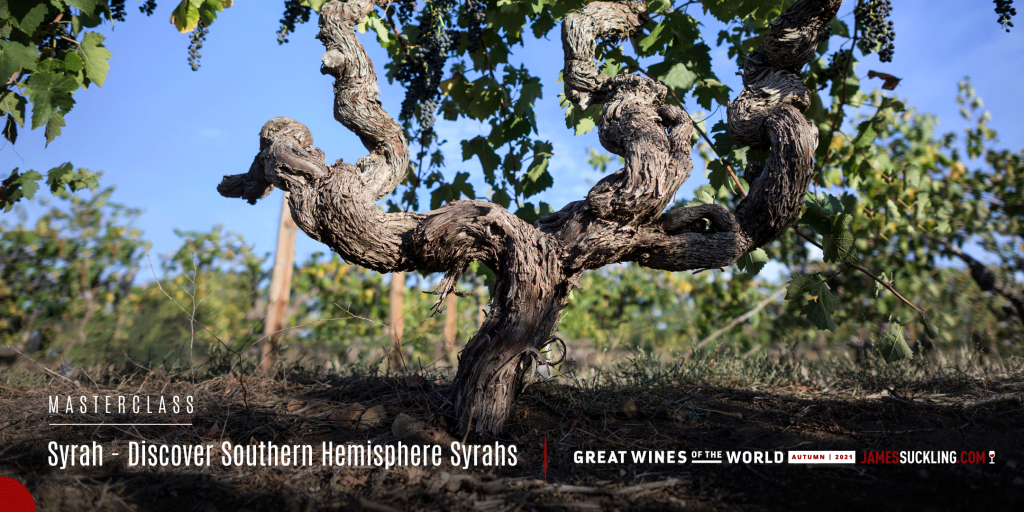 _____
Bordeaux Blends of the World – A Journey | Sept 14 (Tue), 5 p.m. FULL
[12 wines to taste] A tasting of superlatives! Many of the most popular international grape varieties originate from Bordeaux: merlot, cabernet sauvignon and sauvignon blanc to name a few. The Bordeaux blend is now a style, recognized by all and producing extraordinary wines globally, from Napa Valley to Chile, South Africa to Australia. This masterclass is one that is not to be missed, with a spectacular selection of 10 top wines including Super Tuscans Sassicaia and Ornellaia, fast-rising Chinese superstars Ao Yun and Long Dai and the legendary Château Mouton-Rothschild (100 Points). 
Fully Booked.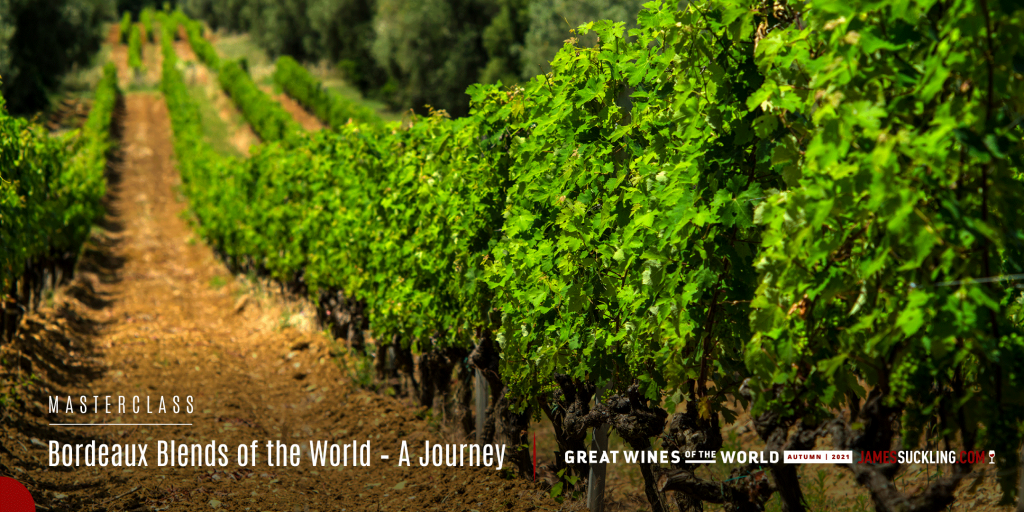 _____
Understanding Port: A Century of Tawnies | Sept 15 (Wed), 5 p.m.
[8 ports to taste] Port is an iconic wine that combines history, tradition and generations of family winemaking. While Vintage Port is often considered the flagship of a Port House, Tawnies also command respect and achieve incredible complexity from decades of maturation in the winery and the art of blending. Come explore a full range of 10 Years Old, 20 Years, 30 Years Old and even 40 Years Old Tawnies through 2 iconic Port house in the name of Symington and Taylor's. Book now >>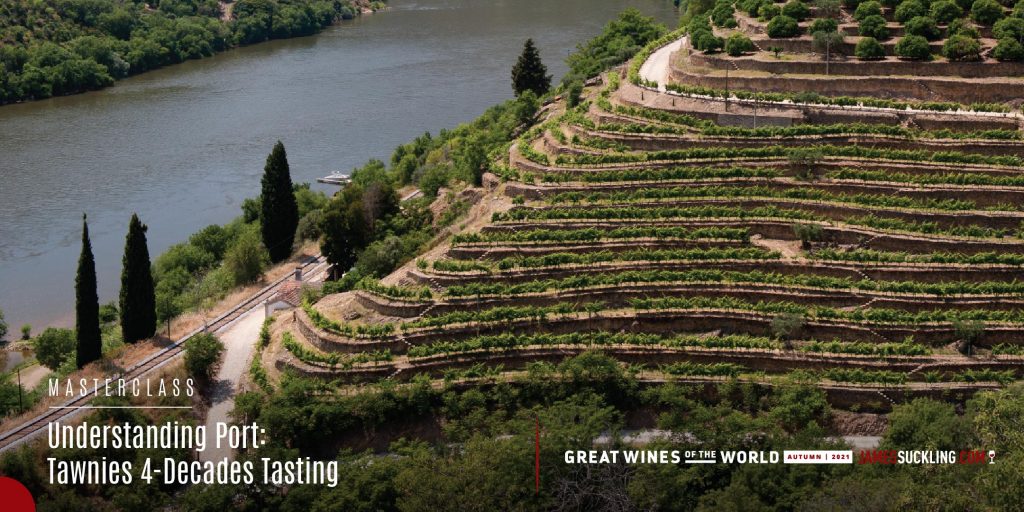 _____
Provence – Master of Rosé |  Sept 18 (Sat), 12noon
[6 wines to taste] Rosé wine is made all over the world and is a go-to in summer thanks to its fresh and delicious character, but there is no better region than Provence to find outstanding examples. Often misunderstood, it is one of the most delicate styles to produce. Come and discover why Château d'Esclans and Domaine Ott are masters of this style and learn how to appreciate serious rosés. Book now >>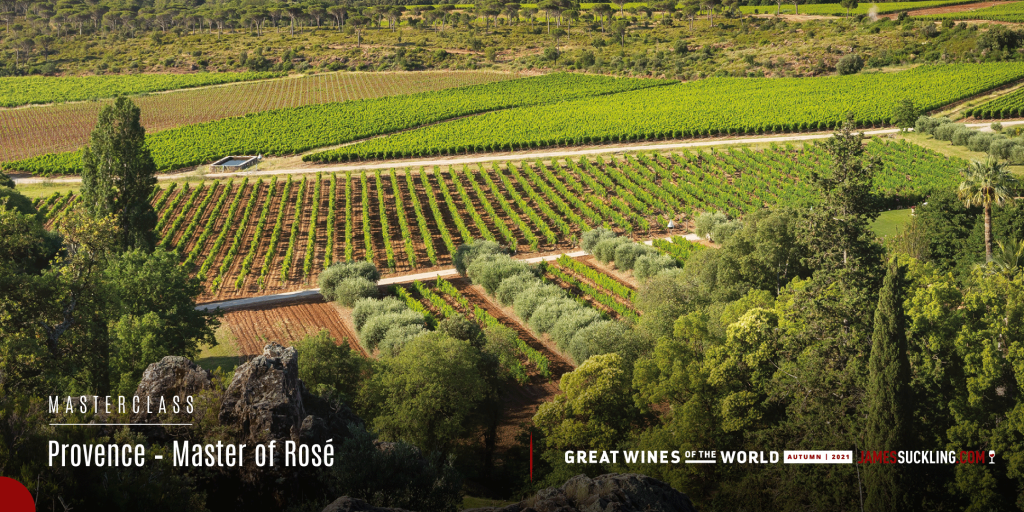 _____
Argentina's 2015 Vintage: The Beginning of Finesse & Sophistication | Sept 18 (Sat), 2 p.m.
[9 wines to taste] Argentina's focus on Malbec cemented its international success. The style has in the past been influenced by the global preference for concentrated, rich wines. But 2015 marked a turning point, when top wineries clearly began promoting balance, freshness and drinkability, resulting in Argentina's present diversity of style. We invite you to taste through a selection of top wines showcasing Argentina's most refined and sophisticated expressions. Book now >>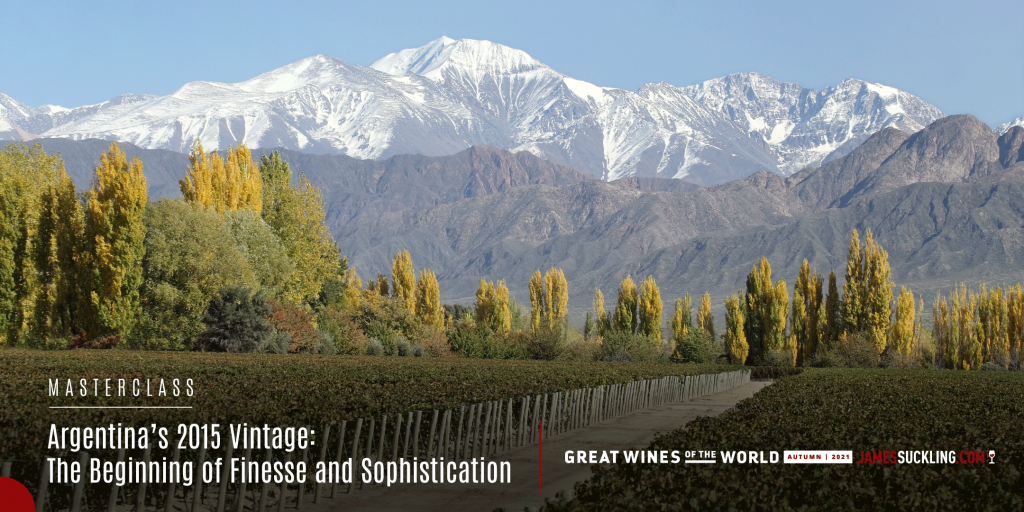 _____
Barolo 2017, 2016, 2015: The Great Trilogy Vintage Tasting | Sept 20 (Mon), 5 p.m.
[Hosted and presented by James Suckling] The newly released 2017 vintage is showing potential and quality, confirming a great trilogy in Barolo. 2015 started the series with an exceptional vintage, the best since 2010, followed by the marvelous 2016 that brought wines with great drinkability even when young. 2017 was a hot vintage in Europe because of a heatwave, but top producers in Barolo were capable of delivering rich yet refined wines. Join us for a masterclass covering these three vintages from two iconic producers. Book now >>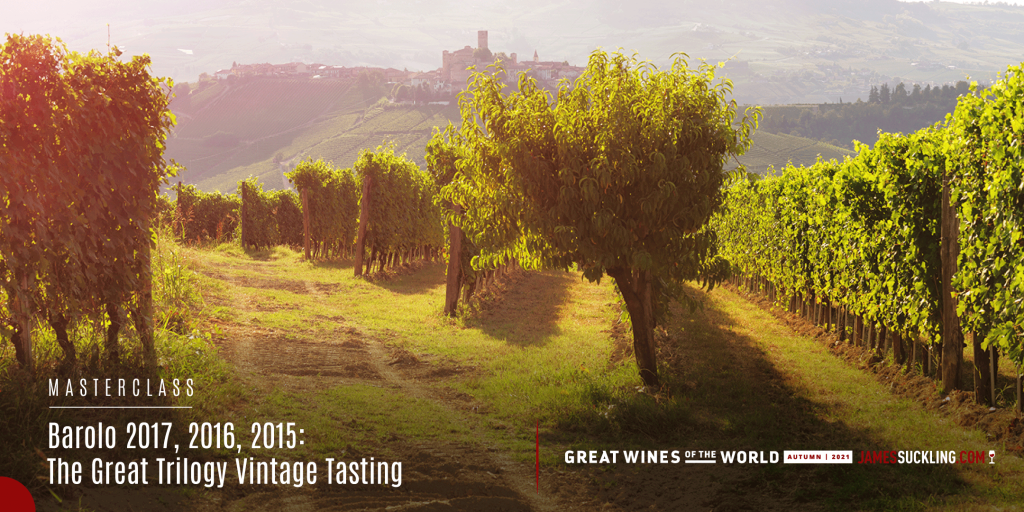 _____
Pinot Noir: New World vs Old World | Sept 21 (Tue), 5 p.m.
[6 wines to taste] The prestigious pinot noir grape has always seduced wine lovers around the world, starting with the allure and fame of the Grands Crus of Burgundy. This capricious but exceptional grape, when understood by those who work on it, offers a variety of expressions and is highly reflective of both terroir and winemaking. Discover the many facets of this fascinating variety by comparing the recent vintages of new world pinots from Chile and California to old world expressions from Hungary and Burgundy. Book now >>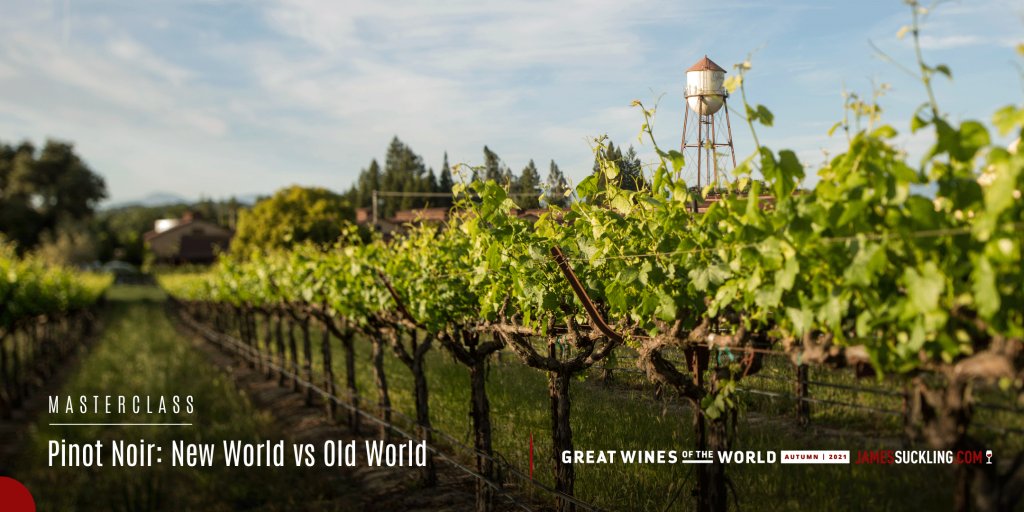 ____
Understanding Great South American Wines | Sept 22 (Wed), 12noon (Mid-Autumn Festival)
[8 wines to taste] Mendozan malbec is celebrated in South America, such as produced by leading winery Trapiche. Yet the continent has much more to offer. Discover Garzon's exciting wines from coastal Uruguay, with fantastic expressions of albarino, an aromatic white grape from the Iberian Peninsula, and tannat, hailing originally from south-west France. And further south, pinot noir has found a unique expression in Patagonia, Argentina, exemplified by our wine of the year: Chacra's perfect 2018 Treinta y Dos pinot noir from old vines planted in 1932. Come and learn how South American wines challenge the rankings with new approaches. Book now >>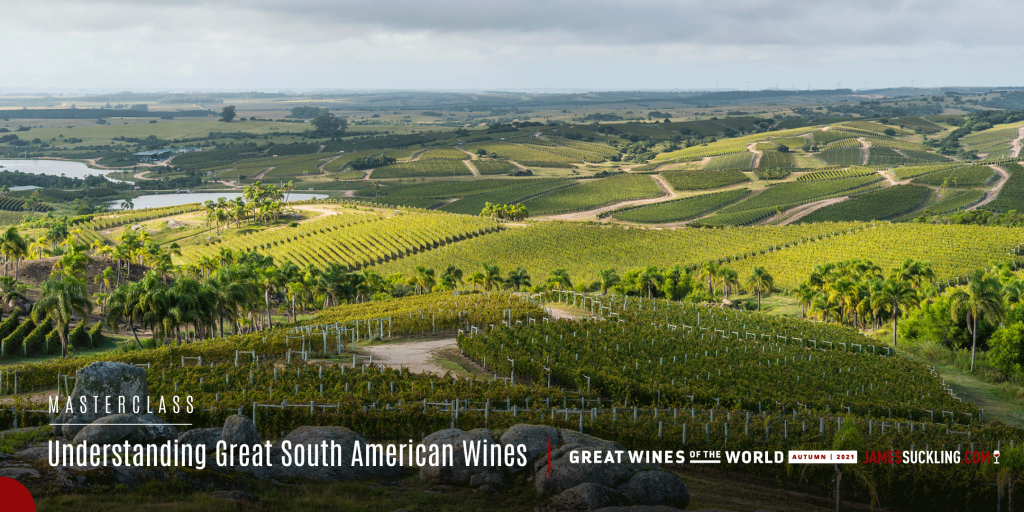 _____
Napa Valley – The Glorious Balanced 2018 Vintage | Sept 22 (Wed), 2 p.m. (Mid-Autumn Festival)
[Hosted and presented by James Suckling] Napa Valley is celebrated for its full-bodied, structured reds from cabernet sauvignon. It has continued to gain prestige and international recognition ever since the Judgement of Paris, which shocked the world 45 years ago. 2018 produced wines with a new level of balance and harmony, with top wines demonstrating drinkability and elegance alongside power even at a young age. We have handpicked six iconic wineries from Napa Valley AVA to showcase why the 2018 vintage in Napa is one to enjoy for a long time to come. Book now >>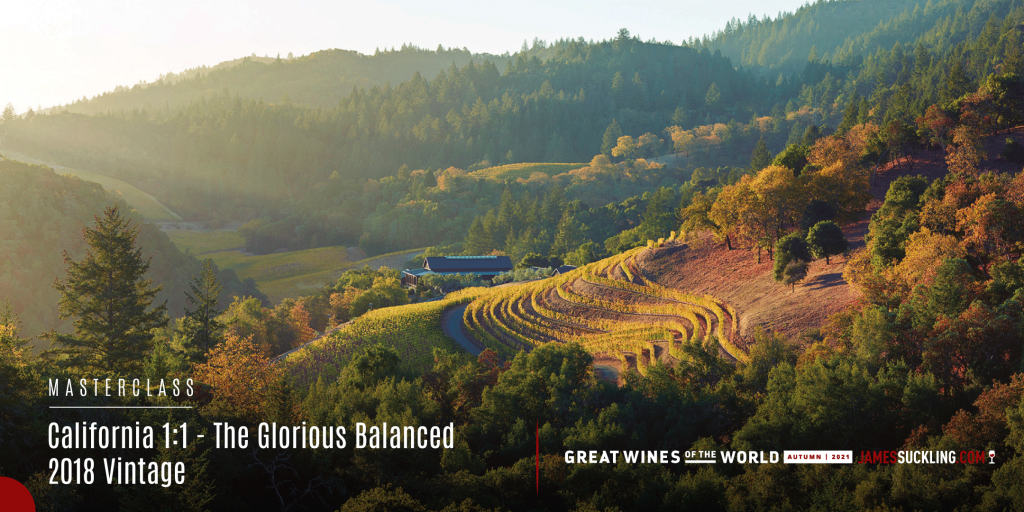 _____
Legends of Tuscany: 2016 Vintage Tasting | Oct 2 (Sat), noon
[Hosted and presented by James Suckling] If the 2015 vintage in Tuscany was one of superlatives and revelations, 2016 was that of confirmation and finesse. More balanced and fresh, the 2016 vintage reinforced the momentum created a year earlier, from Chianti and Tuscan wines to Brunello di Montalcino. Come and discover the exceptional Brunello di Montalcino from Giodo, Luce, Frescobaldi and Renieri, as well as the Tuscan Redigaffi from Tua Rita. Book now >>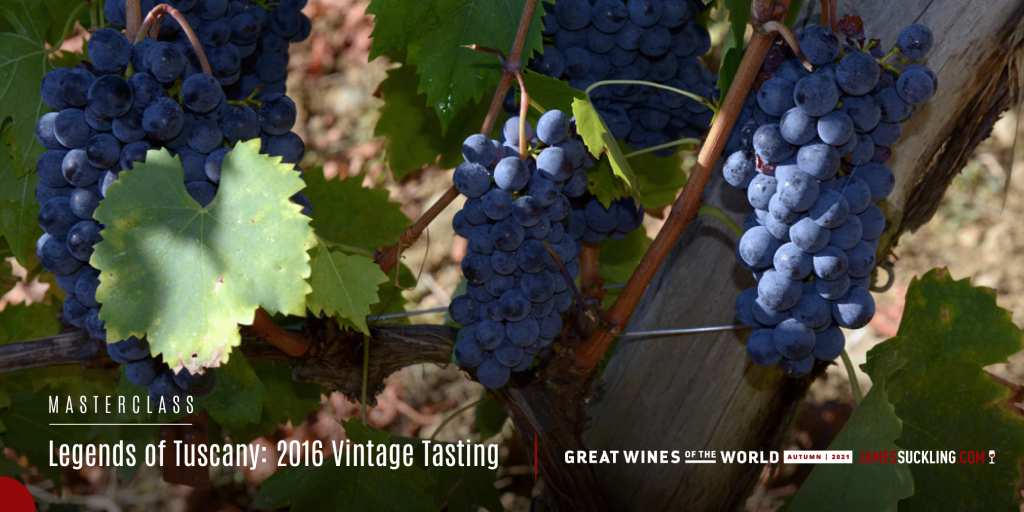 _____
Bordeaux 2014 Vintage: The Beginning of a New Era  | Oct 2 (Sat), 2 p.m.
[Hosted and presented by James Suckling] A superlative tasting – the 2014 vintage is considered a classic vintage in Bordeaux and labelled as a Left Bank year (with a number of successes in the Right Bank). It was a year when both cabernets did well: both cabernet sauvignon and cabernet franc. Come have a taste seven years later of the legendary Château Lafite-Rothschild in Pauillac, the balanced wines from Domaine de Chevalier in Pessac-Leognan and the iconic Château Léoville Las Cases amongst other prestigious Châteaux from the left bank. Book now >>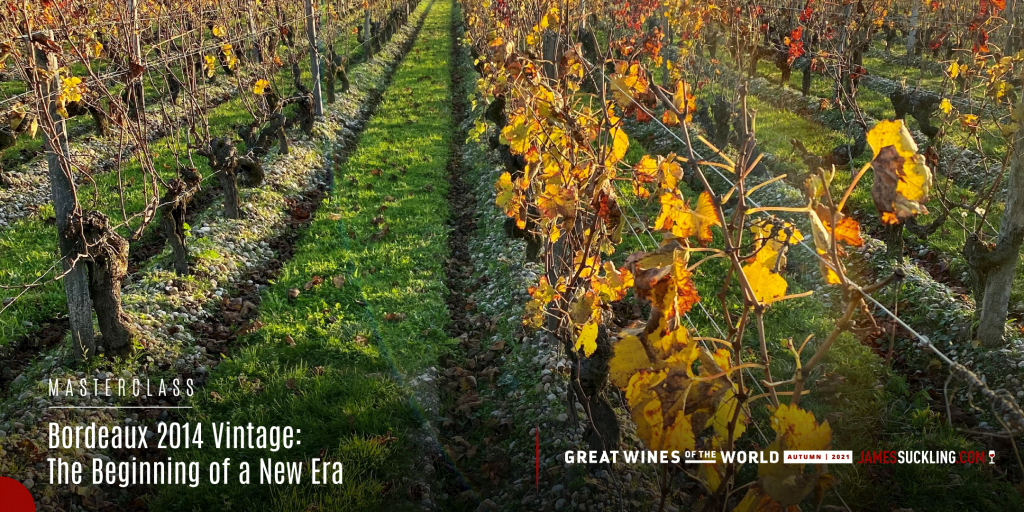 _____
Glorious Chile – Vintage Tasting | Sept 27 (Mon), 5 p.m.
[7 wines to taste] Chile stands out for consistently producing great wines in different vintages, whether with blends or single grape varieties. Their ability to take the edge off vintage variations has allowed the Chile's icons to strengthen their reputation, while complementing the country's diversity of styles. We have selected wines that excelled in the 2016, 2017 and 2018 vintages from diverse regions to showcase unwavering excellence across different styles and blends. Book now >>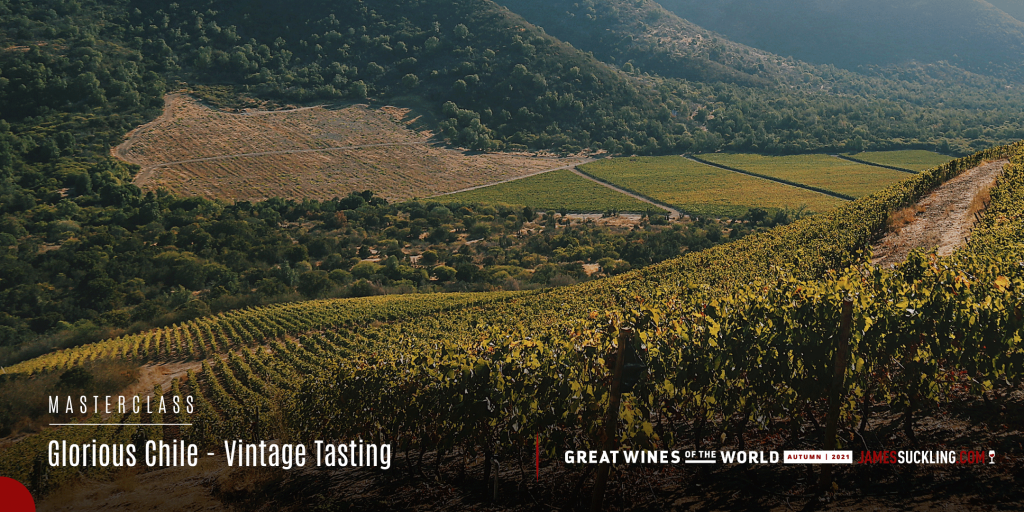 * * * *
---
LIMITED SPACE! FIRST COME, FIRST SERVED
Seats will be confirmed on a first come, first served basis. 
Only serious RSVPs please! Please don't block space if you don't intend to show up. No-shows will be blacklisted for future events. 
For inquiries, contact pr@jamessuckling.com
---

Argentina
Achaval-Ferrer, Alta Vista, Bemberg Estate Wines, Catena Zapata, Chacra, Cheval des Andes, Clos de los Siete, El Enemigo, Kaiken, Terrazas de los Andes, Trapiche, Viña Cobos
Chile
Almaviva, Baron Philippe de Rothschild Chile, Clos Apalta, Concha y Toro, Errázuriz, Familia Torres Chile, Lapostolle, Montes, Polkura, Seña, VIK, Villard, Viña Don Melchor, Viñedo Chadwick
United States
Acaibo, Amici, Courtney Benham, Domaine Drouhin, Futo, Joseph Phelps Vineyards, Marimar Winery, Martin Ray, Newton Vineyard, Paul Hobbs, Peter Michael Winery, Promontory, Quintessa, Realm Cellars, St. Supéry
Bordeaux
Château Pape Clément, Bad Boy, Château Bastor Lamontagne, Château Batailley, Château Belair-Monange, Château Belgrave, Château Bellefont-Belcier, Château Beychevelle, Château Clerc Milon, Château Croix de Labrie, Château d'Issan, Château d'Aussières, Château de Pez, Château Faugères, Château Figeac, Château Fombrauge, Château Giscours, Château Haut-Bages-Libéral, Château Haut-Brisson, Château La Fleur-Petrus, Château La Patache, Château Lafaurie-Peyraguey, Château Lafite-Rothschild, Château le Boscq, Château Léoville Las Cases, Château Les Carmes Haut-Brion, Château Montlabert, Château Mouton Rothschild, Château Nenin, Château Péby-Faugères, Château Phélan Ségur, Château Pichon Longueville Comtesse de Lalande, Château Smith Haut Lafitte, Château Trottevieille, Château Valandraud, Domaine de Chevalier, Essence de Dourthe
Provence 
Château d'Esclans, Domaines Ott
Champagne 
Champagne Deutz, Champagne de Venoge, Champagne Henriot, Champagne Laurent-Perrier, Henri Giraud
Burgundy  
Bouchard Père & Fils, Joseph Drouhin, William Fèvre
Italy
Caiarossa, Frescobaldi, Gianni Gagliardo, Giodo, Ornellaia, Planeta, Poderi
Aldo Conterno, Poderi Gianni Gagliardo, Renieri, Tenuta Luce, Tenuta San Guido (Sassicaia), Tua Rita, Zenato
Spain
Bodegas Muga, Grupo Faustino, Marqués de Murrieta
Portugal
Symington (Graham's), Taylor's
China
Ao Yun, Long Dai, Silver Heights
Australia
Penfolds, Torbreck
Rest of World
Sauska (Hungary)
Klein Constantia (South Africa)
Bodega Garzón (Uruguay)
The post GREAT WINES OF THE WORLD 2021 AUTUMN EDITION – SEPT 2-29, 2021 appeared first on JamesSuckling.com.